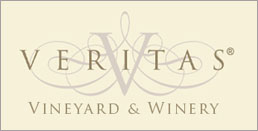 Veritas Vineyards & Winery
Veritas Vineyards and Winery began in 1999 when Andrew and Patricia Hodson planted 5 acres of grapes as a passion project. Over the past two decades, Veritas has grown to include over 50 acres of vineyards and has succeeded in consistently producing a range of complex and elegant wines.
Our philosophy is to make wine with the classic, old-world principles of viticulture and vinification, at the same time using state of the art technology to capture varietal and regional character. Our name derives from the Roman historian Pliny the Elder's observation "In Vino Veritas" – "In Wine there is Truth." We believe that the truth in our wine comes straight from our vineyard as an expression of the land where we live and work.