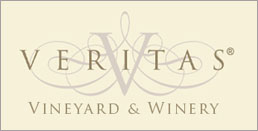 Veritas Vineyards and Winery began in 1999 when Andrew and Patricia Hodson planted 5 acres of grapes as a passion project. Over the past two decades, Veritas has grown to include over 50 acres of vineyards and has succeeded in consistently producing a range of complex and elegant wines.
Our philosophy is to make wine with the classic, old-world principles of viticulture and vinification, at the same time using state of the art technology to capture varietal and regional character. Our name derives from the Roman historian Pliny the Elder's observation "In Vino Veritas" – "In Wine there is Truth." We believe that the truth in our wine comes straight from our vineyard as an expression of the land where we live and work.
Hours
Monday-Friday: 9:30am to 5:30pm
Saturday & Sunday: 11am to 5pm
Closed Thanksgiving, Christmas and New Year's Day.
Tastings
$10 per person.
Our last tasting is conducted 15 minutes before closing.
Groups
We require that groups of 7 or more please make a reservation in order for us to best accommodate your needs. Tasting fees for large groups are $15/person.
We offer tours of our crush pad, wine cellar, barrel room with a discussion of basic wine production, by reservation only. These tours do include a tasting of our wines en route and are a great way to learn about the winemaking process in situ! Please contact us with at least 48 hours notice so we can accommodate your party.
Reserve Online
Food
We offer cheese and charcuterie plates that can be enjoyed on our deck or in the tasting room – no reservations necessary. You may also be interested in purchasing a picnic lunch with or without a tour and tasting – reservations required. RESERVE HERE. You may bring your own food to the winery, but it must be consumed outside of the tasting room. We have ample picnic tables scattered throughout our lawn and in the tree-shaded woods for your convenience.
Pets
We invite you to bring your dogs to the property during normal business hours as long as they are on a leash and kept outside of the tasting room. Please be respectful of our other guests and clean up after your pup when nature calls. Sorry, no dogs are allowed at our Starry Nights summer concert series.
Questions?
Please call the winery at 540-456-8000 or email us.