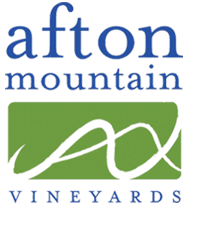 Afton Mountain Vineyards is one of Virginia's pioneer farm wineries, with the oldest of our vines dating back to the 1970s. Afton Mountain Vineyards has produced award-winning wines for decades. We offer premium dry wines from vinifera grapes and we hope that your enjoyment of our wines matches our passion for making them.
Our tasting room is open year-round. Here you can taste our wines with our friendly and knowledgeable tasting room staff, enjoy a glass or bottle of our wine on our patio with beautiful panoramic views, or relax at a picnic table in the grass or at the Pavilion surrounded by the beauty of the Blue Ridge Mountains.
Hours
Open 7 Days a Week
11 am to 5:30 pm
Closed Christmas Eve, Christmas Day, New Year's Day, Thanksgiving Day and Easter.
Tastings
$10 per person.
Our last tasting is conducted 15 minutes before closing.
Groups
We require that all parties of 7 or more please call and place pre-paid reservations. Groups of 7-15 are hosted in our group tasting room with panoramic views of vineyards and mountains. We regret that we do not have the space to accommodate groups of more than 15 people. Please review our group tasting policy.
Food
We offer light picnic fare such as crackers, bread, cheese and cured meats for enjoying on our patio. You are welcome to bring your own picnic for enjoying in the Pavilion or grassed picnic areas. Only AMV wine is allowed on property per VA ABC law. ** Please note: our picnic spaces are in our enclosed Pavilion and grassed areas; our Tasting House does not have indoor picnic space.**
Pets
We welcome leashed pets in our outdoor grassed areas only.
Questions?
Please call the Tasting House at 540-456-8667 or email us.