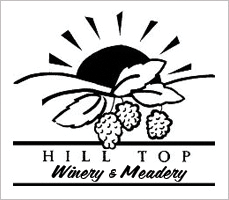 Hill Top Winery & Meadery
Located in the Blue Ridge Mountains of Nelson County, is a second generation family owned winery and meadery. Hill Top has carved a niche in the wine industry by specializing in "True to the Fruit" wines made from various fruits such as blackberries, blueberries, apples, plums and peaches. These and many other fruit wines are not blended with grapes! Hill Top also produces handcrafted "Authentic Honey Meads" derived from the alcoholic beverages enjoyed throughout history by ancient cultures such as the Romans, Vikings, Anglo Saxons, Moors and Celts.
A visit to Hill Top Winery & Meadery is a treat for any wine lover. Offering a unique tasting experience, there is a wide selection of wines and meads ranging from dry to sweet. Your tasting tour will take you around the world and throughout the history of mankind. You will experience wines once enjoyed by Kings and Queens, Plutarch, Shakespeare and Saint Finnian and written about in Beowulf and The 13th Warrior. Mead has been recreated at Hill Top in the various forms once associated with fertility, sex, love, poetry and health. It also tastes great! For a truly unique and enjoyable experience, come in for a visit and you will find the drink of your ancestors and also your winery home away from home.