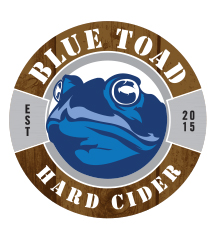 Blue Toad Hard Cider
Born in a barn, Blue Toad Cider honors the tradition and legacy of America's first preferred beverage by crafting an all-natural and eminently drinkable hard cider using locally grown apples grown in Blue Ridge Mountains of Nelson County, Virginia. Rather than solely using European-style tart and bitter apples, Blue Toad Hard Cider uses a cider blend of three to four different apple varieties (replete with natural seasonal variation).
Our production takes place on a historic 27 acre farm at the base of Wintergreen Resort in Roseland, Virginia with 360* views of the Blue Ridge. We believe our cider is different – more authentic, more drinkable, more responsibly produced, more of an experience – than the more mass-produced ciders that may use imported concentrates. We hope you'll treat yourself to a bottle, can or glass of our hard cider soon to savor that difference. We think you'll be back for another.