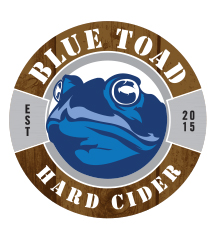 Born in a barn, Blue Toad Cider honors the tradition and legacy of America's first preferred beverage by crafting an all-natural and eminently drinkable hard cider using locally grown apples grown in Blue Ridge Mountains of Nelson County, Virginia. Rather than solely using European-style tart and bitter apples, Blue Toad Hard Cider uses a cider blend of three to four different apple varieties (replete with natural seasonal variation).
Our production takes place on a historic 27 acre farm at the base of Wintergreen Resort in Roseland, Virginia with 360* views of the Blue Ridge. We believe our cider is different – more authentic, more drinkable, more responsibly produced, more of an experience – than the more mass-produced ciders that may use imported concentrates. We hope you'll treat yourself to a bottle, can or glass of our hard cider soon to savor that difference. We think you'll be back for another.
Hours
Friday: 11am to 7pm
Saturday: 11am to 8pm
Sunday: 11am to 6pm
Tastings
Blue Toad offers free small tastes of all ciders on tap. We also sell flights that are intended to share (6oz Pours) Starting at just $4, and feature a full 9-glass (54oz) Flight for $17. Barrel Age tastings when available, can be added for $3.
Groups/Reservations
For the best possible experience, we encourage groups of 10 or more to contact us in advance of a scheduled visit.
Food
Please keep an eye on our Facebook Page for special events and available food. While food is not currently prepared on site, guests are encouraged to bring picnics and we offer expansive river side seating options as well as tables just outside our tasting room.
Pets
We welcome all friendly dogs on leashes inside the tap room and on our 27 acre farm.
Questions?
Please email us if you have any additional questions or special requests. We would also love to help plan your special event, additional information available at www.highviewvarmva.com.